Please join us for The 133rd NAPA Convention July 15, 16, 17, 2008 at Townsend, Tennessee


Join us at the Highland Manor Inn & Conference Center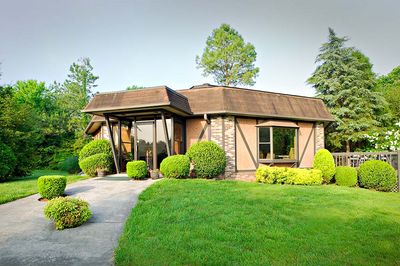 CONVENTION REGISTRATION ALERT:
ON JUNE 15 WE LOSE OUR PROTECTED BLOCK OF ROOMS
Just a reminder that if you haven't yet registered for the convention, our hold on a block of rooms will expire on June 15th. Reservations made after that will be accepted at the same rate, but only if space is available, so it is recommended to make your reservation now.
The number at the Highland Manor Inn is (800) 213-9462, toll-free, or (865) 448-2211. If space is not available after June 15, a nearby motel recommended by Highland Manor Inn is the Talley Ho Motel, (865) 448-2465.
—Bill Boys
Things to do in Townsend, Tennessee
Townsend is glad it's not like the busy tourist centers like Gatlinburg and Pigeon Forge. It is pleased with its motto, "The quiet side of the Smokies."
But it's got a number of attractions that you and your family might enjoy, without having to drive the 22 miles to Gatlinburg.
There are walking, bicycle and horse trails. There are arts and crafts galleries and a museum. There is the Great Smoky Mountains Heritage Center. Tuckaleechee Caverns are just outside of town. You can rent a tube and float down the river. Hiking trails, both long and short, are very close by. Old cemeteries add interest to the routes. Only 20 minutes away is Abrams Creek, an excellent fishery, and the Little River offers both rainbow and brown trout.
Cades Cove, inside the Great Smoky Mountains National Park, is a peaceful valley surrounded by 5,500 foot mountain peaks. It is home to a fully operational grist mill with a working waterwheel, and historic structures. I have purchased stone-ground whole wheat flour at the mill, and enjoyed the resulting loaves very much. Cades Cove has an 11-mile loop road that allows for leisurely exploring, and on Wednesday and Saturday mornings in the summer that road is closed to automobiles till 10 a.m. To allow bicyclists, pedestrians and horse riders a safe, quiet experience in the cove. Summer programs in Cades Cove include apple butter making, sorghum making and performances in the amphitheater. The Visitors Center in Cades Cove has full information about programs and activities.
There are over 1,500 kinds of flowering plants in the Smokies, and more tree species than in all of Europe. There are deer and hundreds of black bears.
Click on an item for additional information about Townsend (in PDF format):
The 2008 Convention — July 15–17 — Townsend, Tennessee
by Bill Boys, Reception Committee Chair
Our next convention will be held in the foothills of the Smoky Mountains, within two miles of one of entrances to the Great Smoky Mountains National Park, in Townsend, Tennessee — known as "the Quiet Side of the Smokies."
And for a change — and as a result of polling the membership last summer — our convention will be held away from the usual Fourth of July holiday. The official convention days are Tuesday, Wednesday and Thursday, but activities will begin on Monday as people arrive, and continue on into Friday, for those who can stay, with a picnic at our home in Knoxville.
Convention Site and Reservations
Our convention site is the Highland Manor Inn and Conference Center, located at 7766 E. Lamar Alexander Pkwy., in Townsend. Their website is www.highlandmanor.com. Room rates will be $79.50 per night, plus 4% occupancy tax. Reservations can be made at (800) 213 9462. Be sure to mention that you are booking for the NAPA convention. Have your credit card handy when you call since the first night's charge will need to be guaranteed when you make your reservation. A nice added feature of this rate is that it does not increase for added people in the room. So bring the whole family — the lodging won't cost you any more than if you came by yourself. And there's plenty for family members to do in the area. More about that below. Wi-fi is available in the Conference Center and the lobby.
Free Night's Lodging for First- and Second-Time Attendees
As a special incentive to encourage those who have never or only once attended a convention, one night's lodging will be paid for out of a special fund which has been made possible by two generous gifts totaling $1,000. This is unprecedented in NAPA's 132-year history, so I especially urge you to take advantage of it. There may be even more to offer, which could expand this benefit to a larger number of folks. Read on.
Become a "Convention Booster"
Would you like to join this effort to boost the convention? For example, underwrite a night's lodging, a tank of gas, a portion of airfare, a hot breakfast buffet, coffee service during the meetings, a ticket to the convention banquet, etc. A subscription booklet of ideas will be included in a forthcoming bundle, or you can contact me directly. It is a great way for those who would like to help other members attend the convention, not only cutting the costs of convention attendance, but also demonstrating a community spirit within the amateur journalism family. Everyone can help make the convention a success, whether or not you can personally attend!
Meeting Facility
We will have a generously-sized meeting facility during the entire time, the Highland Manor Conference Center, plus a 20-foot by 20-foot breakout room. There will be plenty of table space to display auction items and set up laptop computers and printers for publishing a daily convention journal, as well as plenty of classroom-style seating for the business sessions.
Invitation to Prepare a Personal Display Panel
In fact, there will be enough space that I encourage anyone who would like to prepare a display of their print shop and/or their amateur journals. Office supply stores carry a standard cardboard three-panel display board that would be ideal.
Auction
If you have items for the auction that you would like to ship ahead, or send if you cannot attend yourself, send them to me at 6507 Westland Dr., Knoxville TN 37919-8224.
Special-Interest Panel Discussions
Several special panel discussions are planned for this convention:
"Publicity and Recruiting Efforts in Writers Groups and on eBay," with Jake Warner, Stan Oliner and myself, describing our experiences this past year.
"Pros and Cons of NAPA and AAPA Merging," with Barry Schrader and three others to be named. This should be very interesting since there are a number of dual members, while others are members of only one Association or the other. An interesting angle to this very point is that at the time of writing, dual member Lee Hawes was tentatively exploring the possibility of AAPA meeting either concurrently or sequentially with us in Townsend, although as it turned out they finally decided to meet in Tampa, as originally planned. Perhaps a discussion like this can pave the way for some future cooperation between our two Associations.
"How I Produce My Amateur Journal — A Survey," which I will moderate, and which everyone who publishes an amateur journal can join in on, for the benefit of learning new tricks, and of offering basic instruction and advice for those who would like to start publishing their own amateur journals.
Banquet Speaker to Illustrate Sequoyah and the Cherokee Press
The banquet speaker will be Mr. Charles Rhodarmer, Director of the Sequoyah Birthplace Museum, a property of the Eastern Band of the Cherokee Indians and a site on the Trail of Tears National Historic Trail. He will speak about Sequoyah, the great Cherokee who developed a written syllabary of the Cherokee language. It proved so effective that literacy grew among the Cherokees to the point that types were cast and from 1828 into the 1830s a newspaper, The Cherokee Phoenix, was published in New Echota, Georgia. Publication there ended about the time of the infamous forced removal of the Cherokees which became known as "The Trail of Tears." Mr. Rhodarmer will illustrate his talk with slides and describe what is known about the fate of that Cherokee press.
Recreational Opportunities
As for recreation, those who wish may join in for a ranger-guided hayride in Cades Cove, a beautiful valley surrounded by mountains, now a part of the Great Smoky Mountains National Park. Cades Cove was once a thriving pioneer mountain community that ceased only in the 1930s, when land was purchased for the Park. A wine-tasting is being planned, offered by one of Tennessee's wineries whose name also just happens to be Highland Manor, but is not connected with our convention inn.
And then in the surrounding community, the Park, and nearby Gatlinburg, Pigeon Forge and Sevierville there are almost limitless opportunities for you or your family members. "Everything" is hardly an overstatement — multiple outlet malls, Dollywood theme park, a water park, authentic mountain craft and srt shops, T-shirt and souvenir shops, quiet and scenic walkways and hiking trails in the Park (800 miles of them!), myriads of eating places, an aquarium, outdoor dramas, miniature and real golfing, entertainment venues galore, river rafting, museums, heritage centers — you get the idea. From the sublime to the (almost) ridiculous. There isn't space to list it all in The National Amateur, so let me point you to some good websites:
Traveling to Townsend; Airport Shuttle
Travel by highway and by air is easy. Air travelers fly into the Knoxville airport, and if you advise me in advance with your flight arrival information, I (or someone) will more than likely be able to meet you at the airport and save you the $40 limo fare to Townsend. Likewise, at the end of the convention and following the post-convention picnic, carpool shuttling should be quite easy to arrange. Knoxville is easily reached by Interstate highways 40, 75 and 81, and from there to Townsend it's all on good roads, about an hour's drive through Alcoa and Maryville on U.S. 129 and 321. Car rental is available at the airport for those who wish. Parking at Highland Manor Inn is free.
Questions? Comments?
Contact me if you have questions or comments. Bill Boys, 6507 Westland Dr., Knoxville TN 37919-8224, phone (865) 584-9222, email wboys@bellsouth.net.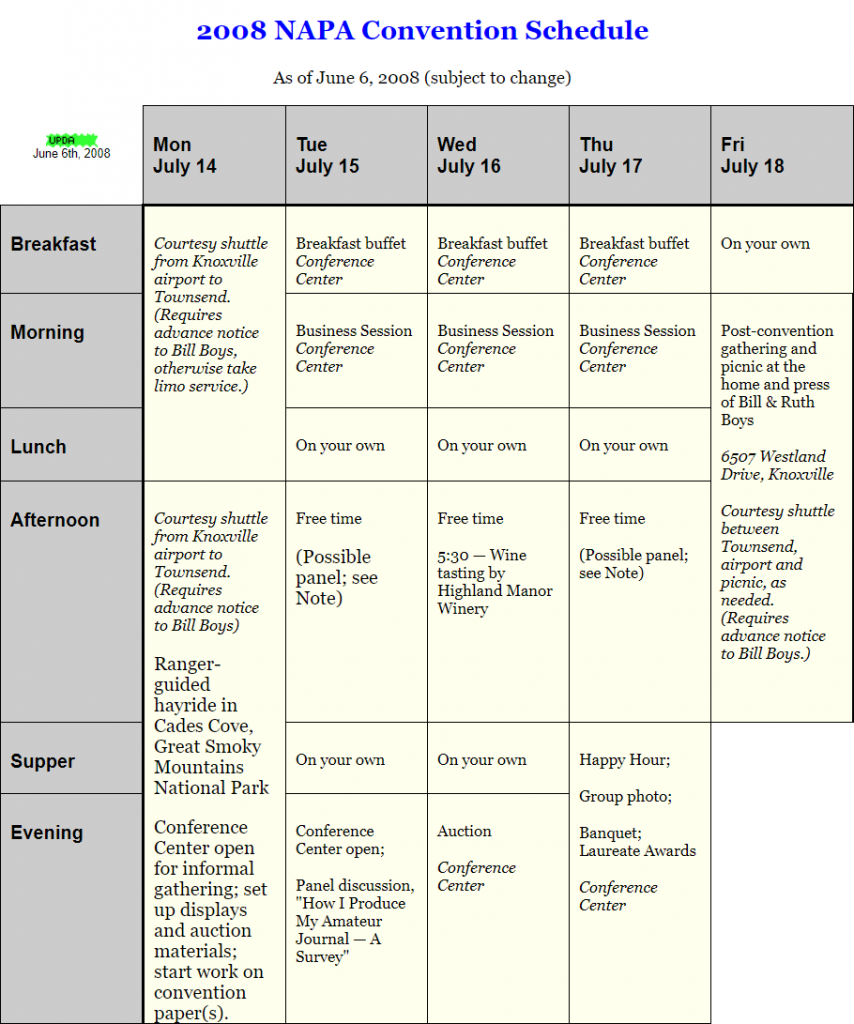 Note: Special panels are planned on two topics which may fall within the business sessions, or else as separate events in a free spot in an afternoon or evening. These are:
"Pros and Cons of a Merger between NAPA and AAPA," with Barry Schrader and three others to be named, and
"Publicity and Recruiting Experience in Writers Groups and on eBay," with Jake Warner, Bill Boys and Stan Oliner.