Site of the 2005 NAPA Convention — Torrance, California, near Carson, CA
Saturday, July 2nd through Monday, July 4th
Hotel web site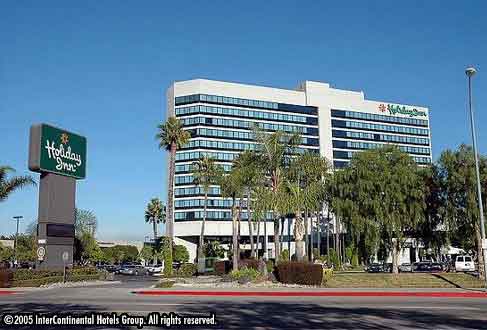 HOLIDAY INN
TORRANCE
19800 S Vermont
Torrance, CA 90502
United States
Tel: 1-310-781-9100
Fax: 1-310-324-1695
Email: ReservationsTRRCA@ichotelsgroup.com
Check-In Time: 3:00 PM
Check-Out Time: 12:00 PM
From Bob Mills, Convention Arrangements Commmittee Chairman:
Make Your Way Westward
for the
2005 NATIONAL AMATEUR PRESS ASSOCIATION's
130th ANNUAL CONVENTION
at the
International Printing Museum
at Carson, California, on July 2nd to July 4th
Plan to enjoy a warm weekend in beautgiful Southern California attending the 130th annual National Amateur Press Association's Convention, at the International Printing Museum in Carson, California, hosted by members Mark Barbour, Bob Mills and Dr. Leland Whitson.
This years programs will include demonstrations and tours through the Printing Museum's world-class collection of antique printing machinery (including walks through the warehouse, always a favorite for the hobbyist!); demonstrations of various typecasting methods in the Museum's new Book Arts Institute; a showing of the museum's toy & amateur press collection, highlights from the Museum's 10,000 volume Library of Printing History; a fantastic swap meet and auction, including many surplus items and equipment from the Museum's warehouse; and a keynote presentation during the traditional banquet on Monday evening.
We have also arranged for a special visit and tour to the Huntington Library , Gardens and Art Gallery. This is one of the pre-eminent cultural attractions of Southern California and one of the best private libraries in the world. It is home to the best copy of the Gutenberg Bible, a wonderful collection of early manuscripts and early printing books, first editions and sumptuous volumes.
Accomodations have been arranged for at the beautiful Holiday Inn in Torrance for $65/night + tax (normal rate is $100). Phone (310) 781-9100 for reservations. Transportation from the Los Angeles International Airport (20 minutes away) directly to the Holiday Inn is available at very reasonable rates by Airport Bus. The Printing Museum is only one mile from the hotel. Transportation to the Museum from the hotel will be available.
Attractions in the area to consider to make your extended visit very memorable: Disneyland; Knott's Berry Farm Amusement Park in Buena Park; Dinner Medieval Times Tournament and Dining; Six Flags Magic Mountain; Universal Studios; plenty of beaches; plenty of great shopping malls; antique stores; J. Paul Getty Museum (manuscripts, art galleries, antiquities and sculptures); Peterson Automotive Museum; the Queen Mary; the Norton Simon Museum, Pasadena (fine European paintings and sculpture).
Any questions or requests for detail convention information can be directed to:
Mark Barbour, Int'l Printing Museum (mail@printmuseum.org)
315 Torrance Blvd., Carson, CA 90745
(714) 529-1832
Come Early — Stay Late — Enjoy!
2005 NAPA CONVENTION   JULY 2nd-4th, 2005
at the International Printing Museum
315 Torrance Blvd., Carson, CA 90745
(714) 529-1832  or (310) 515-7166   www.printmuseum.org

NAPA 2005 CONVENTION PROGRAM

(TENTATIVE SCHEDULE, SUBJECT TO CHANGE)

Conference Hotel: Holiday Inn, Torrance
19800 S. Vermont Ave. Torrance, CA 310/781-9100
Unless otherwise noted, all activities will be held at the Printing Museum.
FRIDAY, JULY 1:   (optional)
Optional activities for earlybirds including tour of history Fort MacArthur in San
Pedro, chance to ride the newly re-installed Red Car street car line in San Pedro, shopping, visit the famous Getty Museum, etc. . . (activities will be organized by level of interest by earlybirds)
6 pm to 9 pm: Registration at Holiday Inn
SATURDAY, JULY 2:
8 am to 9 am: Registration at the Printing Museum
9 am to 10:30 am: Welcome and Introductions; Business Session
10:30 am to 12:30 pm: Tour of Printing Museum with theatre presentation by Ben Franklin
12:30: Lunch at the Museum.
1 pm to 4 pm: Demonstration and activities in the Museum's new Book Arts Institute, including printing, typecasting and papermaking.
Dinner on your own.
Hospitality room from 8 pm to 10 pm.
SUNDAY, JULY 3:
10:30 am: Trip to Huntington Library, Gardens and Art Galleries, Pasadena;
Business session on bus; Box lunch provided on bus; the Huntington is open from noon to 5 pm.
Dinner on your own.
Hospitality room from 8 pm to 10 pm
MONDAY, JULY 4:
9 am to 10 am: Business sessions at the Printing Museum
10 am to 11 am: Treasures and Gems from the Museum's L:ibrary of Printing History.
11:30 am to 12:30 pm: Small Impressions; The Museum's Toy & Hobby Preess Collection
12:30 pm to1:30 pm Lunch at the Museum.
1:30 pm to 4 pm: Swop Meet and Auction (packing and shipping of treasures available)
5:30 pm: Group Photo
Banquet at the Holiday Inn; presentation of Laureate Awards; keynote address.
Convention ends
Monday Evening Banquet: $35 per person

Saturday Museum Lunch: $10 per person

Sunday Box Lunch on Bus: $10 per person
(The Huntington Library also has a small cafe for lunch if you prefer)

Monday Museum Lunch: $10 per person

Bus ride to the Huntington Library: $10 per person

HOTEL INFORMATION:

We have a block of rooms reserved at the Holiday Inn, 19800 S. Vermont Ave., Torrance, CA 310/781-9100. The rate is $65 + tax per night. You must book your room before May 31st, 2005 to keep this special rate. Please call the hotel directly and mention : "NAPA Convention, Printing Museum Rate".